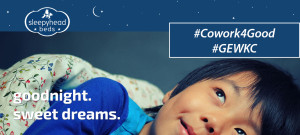 So you've been thinking about trying coworking but you just haven't made the move yet. Here's a great opportunity to try it out and help Sleepyhead Beds.
You can #Cowork4Good every day during Global Entrepreneurship Week (GEW), November 14th through 18th! Visit a participating KC Coworking Alliance member coworking space to work for the day and give back to the community at the same time!
Participating Spaces:
Think Big Coworking
Cowork Waldo
Village Square
iWerx
WerksLab
Grid
Plexpod
Your price for drop-in coworking for the day? New/used bedding OR a new pillow OR you pay the normal price for the coworking space you are visiting and 100% of proceeds will go to Sleepyhead Beds. Sleepyhead Beds is a non-profit organization that gets beds and bedding to KC kids in need. Here's what Sleepyhead Beds accepts:
1. Used and new sheets of all sizes
2. Used and new blankets of all sizes
3. New Pillows
4. Pack-n Plays
What they do not accept:
1. Beds frames or furniture
2. Used Pillows
3. Bed Skirts
Signup here to #Cowork4Good during #GEWKC!